Doesn't everyday life with your horse go easily and problem-free?
The goal of our first online course in ground work is to teach you skills that you can use to
teach the horse good manners
create a good relationship with the horse
With these exercises, you can also
fix some behavior issues
avoid problem behavior
With these exercises, we correct most of the behavior problems when training problematic horses at our horse training center!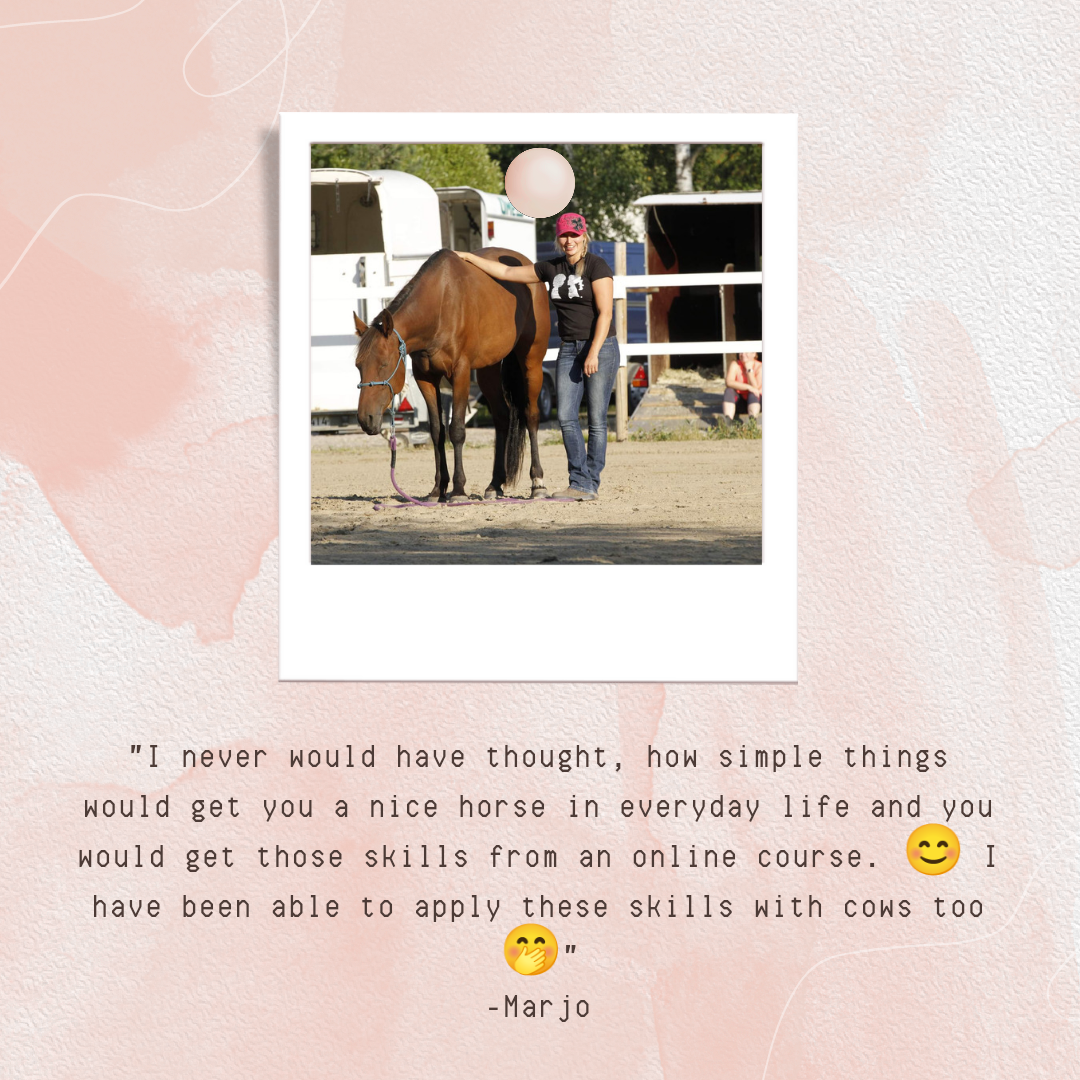 Elina's feedback: "From Mervi's course, I got something that I have been looking for all my time as a horse owner. Although I have had wonderful people around me to advise me, now I got solid reasons for the things to do with the horse.
Mervi explained and showed with the help of videos in a really comprehensible way, even with different horses, how to build trust and respect so that it is safe to be with the horse. It was also great that we course participants were able to ask about everything that made us think.
I learned a lot from other people's questions and Mervi's always so clear and understandable answers. I highly recommend the course!"
Course is for horse people who want to
make everyday life with the horse easy, problem-free, relaxed and pleasant for both parties.
learn how to solve problems and maintain good behavior of the horse.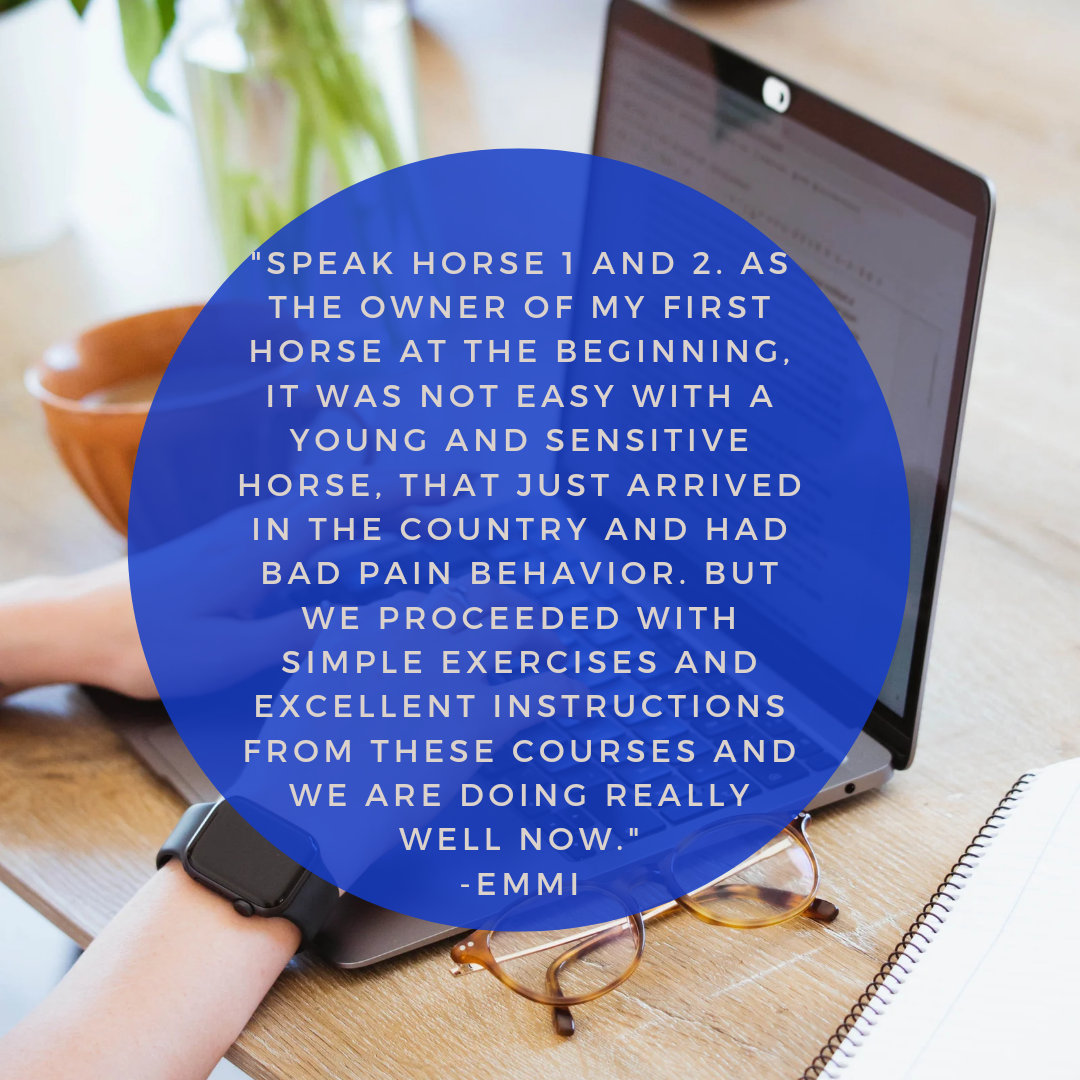 After the course you will be able to:
train your horse to behave well when led
handle your horse so you can help him relax
teach your horse to focus on you instead of the environment
create a good relationship with your horse, where the horse can respect and trust you
the difference in training a sensitive and non-sensitive horse
teach the horse to respect your space
teach the horse to follow you on a loose lead rope and even without equipment
the meaning of pressure and how it is used in training your horse
Minna: "Thank you Mervi for the courses, I really liked them!
Over the years, I have followed many horse trainers in their work and picked up the best tips for my own work and hobby. I haven't liked all the ideas: some train horses in a rather harsh style, first they startle them and then they desensitize them. Some, on the other hand, with a big flower hat and a bucket of treats, give the horse an awful lot of freedom.
I think your way of training seems to be the most appropriate so far, a clear and functional system where there is nothing too much or too little.
We had such a connection and trust with my old beloved gelding, who is now already adventuring in the greener pastures, that I taught him a lot of things almost by accident, both just naturally understood what to do. Now that I have a two-year-old little kid horse, I have to pay more attention to training.
These courses are certainly a big help for us. Thank you! "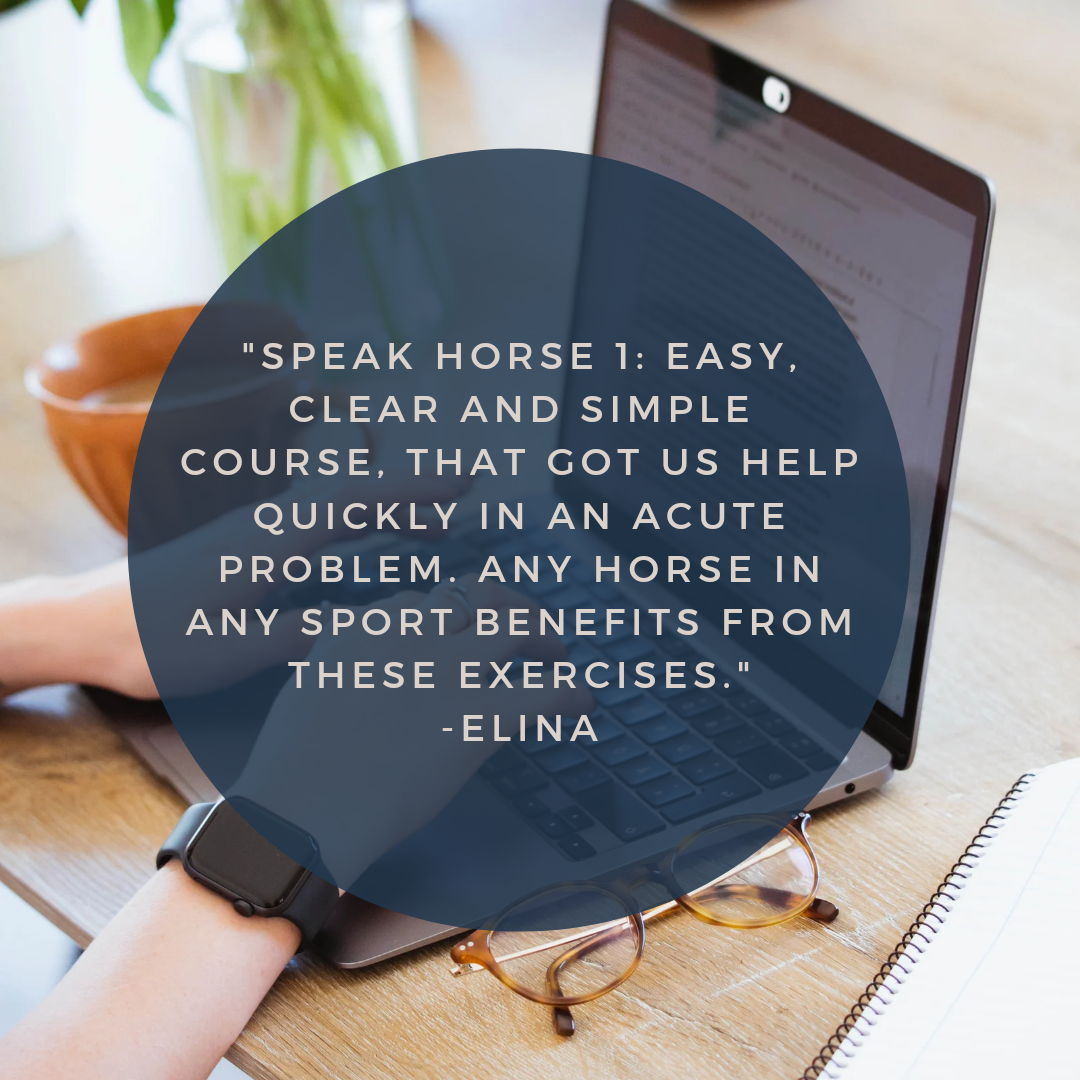 What's on the course?
practical exercises with three different horses
a short theory on training horses
clear and simple instructions on what, how and why.
horses that don't know course tasks in advance, i.e. the course does not only include ready horses.
You can ask the instructor for advice in the Facebook group created for the course. It makes it easy to send videos, which makes it easier to help. You can use the materials for at least one year! The course has 2 hours of video material and additional texts.
Senja: "I participated in the first online course of Speak Horse at the Mervi Pakola Horse Academy last fall. The instructional videos of the course were clear and all the exercises were shown from start to finish with three different horses.
The instructions in the videos were clear and it was easy to try exercises yourself in practice. If you encountered problems, you could ask for help easily and a solution to the problem was discussed in a good spirit. If necessary, Mervi put more instructional videos in connection with the answer.
The exercises chosen for the course were simple, but nevertheless those that can be easily applied in many different everyday situations. I myself was surprised how many things exercises can affect. By applying the exercises in the course, I was able to reduce the pony's fussiness during feeding situations, for example. For example, the pony's rushing to eat has decreased considerably, and the pony doesn't try to dig when it sees food as often as before, because I got tools from the course that I can use to correct the pony's behavior.
There has been a lot of joy from the exercises especially in situations where there are difficulties. In addition to the fact that we received advice and inspiration for various exercises from the ground, the pony no longer tries to walk past me, but mostly walks relaxed and obediently behind me. Even standing still goes much better than before and the pony stops when I do too. From the course, I also got snacks for situations where the pony is nervous or the environment is otherwise more interesting than me. Thus, working with a pony is safer and more pleasant for both.
I can warmly recommend the course to everyone who works with horses, because the course helps to understand how a horse learns and how it should be taught, as well as how to correct already learned behavior. In addition, the tasks of the course are suitable for all kinds of horses.
I warn you, your everyday life with horses may become easier after the course!
Thank you Mervi, you are amazing!
Check out these before and after videos which show you what you can achieve with ground work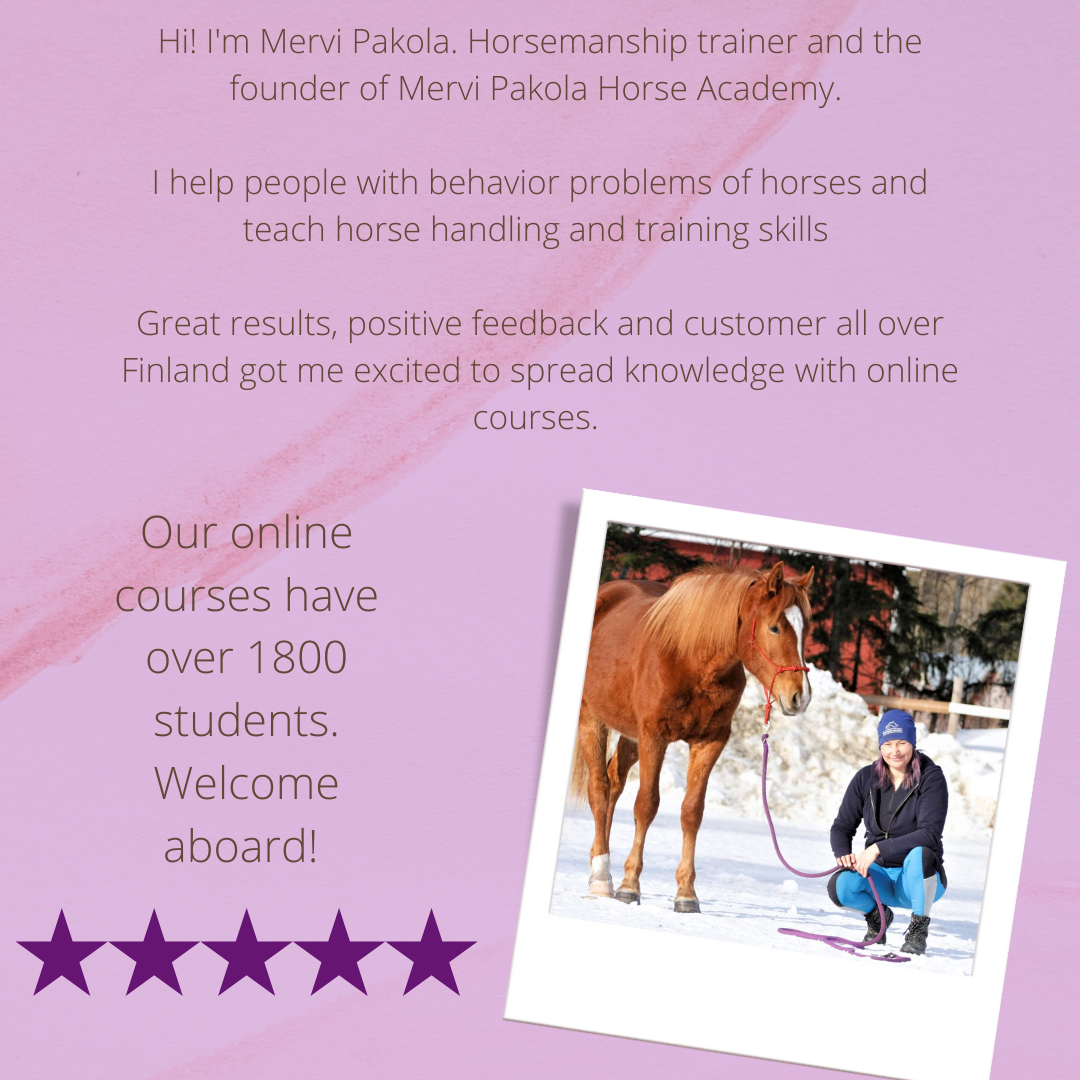 Johanna: "I participated the first online course of the Mervi Pakola Horse Academy and I recommend it warmly for everyone. It doesn't matter if the horse is young and inexperienced or a well-trained racehorse, because a change in everyday routines will definitely cheer everyone up.
The tasks and videos were very clear.
The fact that the videos showed the tasks on three different horses helped to see how the horses can react differently, and thus, before trying the tasks yourself, it was a good tool for different reactions.
Thumbs up to Mervi's activity. He has been answering our questions throughout the course and give advice to everyone who needed some. I never thought I would get such good service and advice in an online course.
I have videoed my own exercises and I also recommend it to others. Videos are the easiest way to see your own mistakes.
In my case, it was revealed from the video that I don't take enough care of my own space, and when I started paying attention to this, the cooperation became even more comfortable.
Very happy owner of a young horse here. The course was worth every euro and much more. ˂3 Thank you Mervi ˂3"

Frequently asked Questions
Can I do exercises with my young horse?
Yes, exercises can be done on a horse of almost any age. I start the exercises at the age of approx. 6 months to 1 year, depending on when a particular horse needs them. The exercises of the Speak Horse 1 course are so easy and useful that even a very young horse can do them and they benefit a lot from the exercises.
Do I need rope halter and a training rope to do the exercises?
Not necessarily, but they help with the exercises considerably. In the 1st level ground work course, Speak Horse with Mervi 1, I will give more detailed advice on what kind of equipment you should get. A sensitive horse can also work with ordinary halter, but a less sensitive horse will especially benefit from rope halter and a training rope. I personally use ordinary halters and ordinary ropes a bit heavier than average in everyday life, after I have first taught the horse these exercises with rope halter and a training rope.
Can you really learn how to handle and train a horse in an online course?
Based on the positive feedback from our course participants, you really can! A lot depends on your own activity to do the exercises.
Everyday life changes if you make the exercises a part of everyday life and practice so that they go smoothly.
You can also ask for advice in the course's support group on Facebook if something doesn't work out. You can put videos there too, which makes the advice more precise.